1.Donquixote Doflamingo



Former Bounty: 340,000,000
Theme: Flamingo

Doflamingo was first revealed a Shichibukai at a meeting at the Navy Headquarters to decide who would replace Sir Crocodile in the position of Shichibukai.

At the meeting, he was able to control people simply by moving his hand, making them attack each other. If this was done by the use of a Devil Fruit, it has yet to have been revealed. His overall ability in general has yet to have been revealed, but because of his extremely high bounty, the highest revealed in the entire world so far, it is speculated that he is extremely powerful.

He was later to be revealed that he was once the captain of the Bellamy Pirates, but once he became a Shichibukai, he gave the position to Bellamy. Yet, however, he still continued to keep bonds with his crew. Like Bellamy and the rest of the pirates, he also believes in the New Age, where dreams no longer exist, and only the strong survive. Because of Bellamy's failure and defeat to Monkey D. Luffy, he was killed by Sarquiss, another Bellamy Pirate, by Doflamingo's controlling ability.

2.Bartholomew Kuma



Former Bounty: 256,000,000
Theme: Bear

Bartholomew Kuma was first revealed a Shichibukai at a meeting at the Navy Headquarters to decide who would replace Sir Crocodile in the Position of Shichibukai, accompanied by Donquixote Doflamingo.

Little else is known of this Shichibukai. It is speculated that he is very religious, for he is always seen carrying a Bible in his arms. His name, Kuma, means bear, which could be a clue to his fighting style or ability.

3.Dracule Mihawk


Former Bounty: Uknown
Theme: Hawk

Dracule Mihawk was first introduced in the series during the Baratie arc when he was chasing down Krieg and his pirates. Krieg's extremely large pirate crew was all defeated, save one ship, in the Grand Line when Dracule Mihawk defeated them all, cutting all the ships in half.

When he finally reaches Krieg's ship, saying he only followed it because he had nothing better to do, also cut it in half with one slash of his sword. He was then challenged by Roronoa Zoro. Mihawk is known as the best swordsman in the world, and that is the position Zoro dreams for. Zoro, during the fight, stood no chance against the stregnth and ability of Miahwk. He was quickly defeated, Mihawk using nothing but a small knife. At the end of the fight, Zoro stood infront of Mihawk, his arms outreached, saying that he would perfer to be cut than run and loose. Mihawk then used his sword. However, Mihawk left Zoro alive, and told him to train hard and surpass him one day, for he would be waiting. After this, he made his leave.

Later, he is seen at the Navy Headquarters meeting to decide the new Shichibukai. When he arrived, Donquixote Doflamingo commented that he was the least expected to come, hinting at his power.

4.Gecko Moria



Former Bounty: 320,000.000
Theme: Gecko

Gecko Moria is the most recent Shichibukai to be revealed. He is a giant and lives on the largest pirate ship in the world, Thriller Bark. Little is known of him except that he is the captain of a large pirate crew made of zombies, and that he somehow appears to have the ability to take away shadows, thus causing you to die in the sunlight.

5.MARSHAL.D.TEACH




Former Bounty: Unknown

Theme: Unknown

Now Marshal.D.Teach(Blackbird) are said to replace Crocodile as a new member of Shichibukai. As he is now possess a logia fruit with the ability of darkness. He was a former pirate crew of Edward Newgate(White beard) the strongest pirate and said to be as the most suitable candidate to be the Next Pirate King. White beard order Portgas.D.Ace to hunt Teach. And finally reveal the strongest of all Logia fruit. Power of Darkness. and yet the battle between Teach and Ace remain in mystery.




*more detail of Teach, please read through "The Man of 'D' " post. Thank you.

Prev: Pirate Crews
Next: World Government

6.Pirate Empress Boa Hancock


Former bounty : 340,000,000

is the only female member of the Shichibukai and was first mentioned by one of the Risky Brothers while he was talking about Mermaids to Sanji and Brook. She is the Snake Princess ( Hebihime) of Amazon Lily and rules over it with her two younger Gorgon sisters, Boa Marigold and Boa Sandersonia.

Compared to the abnormal appearance of her sisters, Hancock is a slender, tall woman with long black hair and eyes that have long, voluminous lashes. Her attire changes frequently. When first introduced she wore a revealing red blouse and loose sarong that exposed her long legs with the green symbol of the Kuja adorned on it. Currently, she has a qipao, with a hooded cloak that she took off during the battle against Whitebeard. In all her outfits she has worn a pair of earrings that look like snakes and high-heeled shoes; her attire is also adorned with the emblem of the Kuja.
Her beauty is noted by many throughout the world: to one of the Risky Brothers, her beauty is second only to that of the mermaid princess, while others like Marguerite and Hannyabal claim she is the most beautiful woman in the world. She is also almost always seen with a very large Snake Weapon, which despite the skull it wears, is usually smiling.
Along with her sisters, on her back is what was believed to be a pair of Gorgon eyes which would petrify anyone who sets eyes on it. However, it turned out to be a lie; what is really on her back is later revealed to be the slave mark of Tenryuubito, and she is willing to kill, or petrify, anyone (other than her sisters, Elder Nyon, and currently, Monkey D. Luffy) who sees it, to keep it a secret.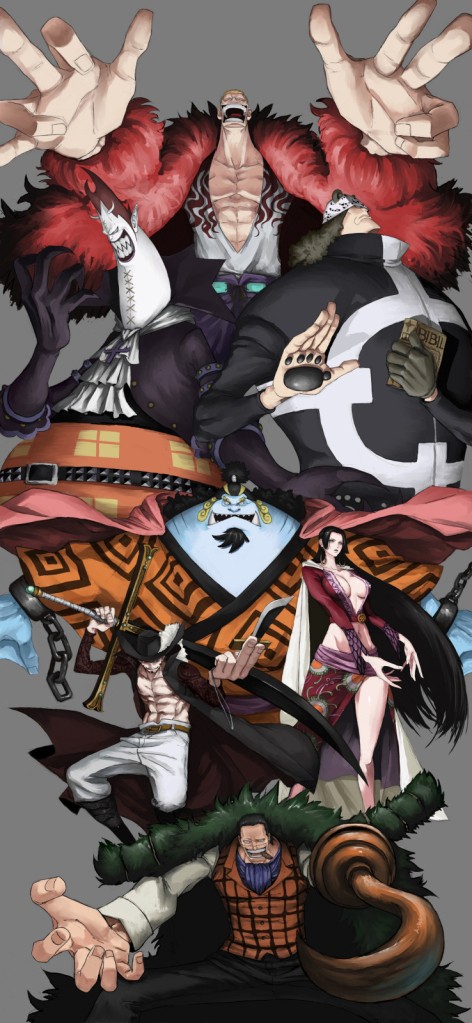 Last edited by ChadZ on Wed Jul 22 2009, 17:10; edited 1 time in total