Luffy:
* Due to the nature of the One Piece timeline against the real world timeline, Luffy does not age, remaining 17 no matter what the year is in real life.
* Monkey D. Luffy is the second character that carries the initial D., however he is the first D. to be named in the story.
* Except for the Gears, Luffy's Forms (up to now) have all been him messing around hoping something will work, and just doing goofy stuff, but they have saved him each time.
* Luffy's favourite food is meat.
* Oda has claimed that at the time of naming Luffy, he did so because he felt the name "Luffy" was right for his main character. Later Oda found out there is a Maritime term called a "Luff" and has insisted this is pure coincidence but one he was delighted by.
* In the Dragon Ball and One Piece crossover Cross Epoch after Luffy falls from a cliff Goku orders the Kinto'un to save Luffy from the fall and then he rides the Kinto'un until they arrive in the tea party. Riding the Kinto'un, in the universe of Dragon Ball, means that Luffy is pure of heart.
* One of Oda's more mature SBS questions asked if Luffy's lower regions could stretch, to which Oda replied yes.
* When Luffy activate his Gear 2nd. In the Original manga Luffy skin doesn't turn red, the anime made it to turn red to show the difference. The game One Piece Unlimited Adventure when Luffy activate gear 2nd his skin stay the same colour but glow brighter.
Zoro:
* Zoro owns his own Jolly Roger, like all the Straw Hat crew. It has Zoro's bandanna, two swords instead of cross-bones, and a sword in it's mouth.
* His family name, Roronoa, comes from the real-life French pirate François l'Ollonais
* In Japanese Fan Polls, Zoro is consistently the second most popular character.
* Zoro's favorite foods are White rice, sea king meat and anything that goes with ale.
* When fighting in major battles, Zoro has frequently had some sort of handicap. In some cases, this is having a physical disability prior to a battle, such as fighting Morgan and his Marines after starving for weeks, fighting Cabaji after being stabbed by Buggy, or being seriously wounded by Mihawk prior to fighting Arlong and Hachi. In others, he has been handicapped by a lack of one or more swords - having two swords stolen prior to fighting Sham and Buchi simultaneously; being disallowed to use swords in the Groggy Ring during the Davy Back Fight; losing Yubashiri before his battle with Ryuuma. Sometimes he faces an opponent that can only be beaten by a sword skill Zoro hasn't mastered yet - not knowing how to cut steel against Das Bones, - or even by other crew members, such as having Usopp chained to his hand during his fight with Kaku.
Sanji:
* Sanji owns his own Jolly Roger, as does the rest of the crew. It has Sanji's right curly eyebrow, fork and knife for cross-bones, and a chef's hat.
* According to Oda in an SBS, Sanji "has" 930 Maerchen Ero Ero's (Note: "ero" is a way to infer something sexy or erotic)
* Sanji's favourite food is Spicy seafood pasta and stuff that goes with black tea.
* Sanji's curly right eyebrow is supposedly one of the seven great mysteries of One Piece, according to what Oda said in an SBS. In another SBS regarding if every Devil Fruit has swirls, Oda says and then states that he often wonders if Sanji is a devil fruit due to the swirl eyebrow.
* The brand of cigarettes Sanji smokes is called King Ground. This is revealed when Sanji falls down during the Strawhats' descent to the Blue Sea.
* Apparently Attachan went through much trouble to get Sanji's picture for his bounty poster. In one instance Sanji was either showing his heart face while in another he was under the influence of the Awa Awa no Mi, yet another had his face being blocked out by someone else and in another shot he was kicked in the nuts at the moment. The picture that was supposed to be his was when they got over the Enies Lobby Main Island Gate but the lens cap was on. This picture is the spitting image to Duval. This caused marines and bounty hunters to mistake him for Sanji and chase after him, prompting Duval to wear a mask and seek vengeance against Sanji.
Brook:
* Like other members of the Straw Hat crew, Brook has his own personal Jolly Roger, it is a skull without a jaw with Brook's trademark afro and top hat and a cane in place of the crossbone mark.
* Before Brook fulfilled the position of musician, there was a running gag of the need of the position to be filled, that was always being brought up by Luffy, during important meetings with his crew on who to join next. Whenever the Straw Hats hold a serious meeting about a situation they are in that might require a the addition of a new crew member with skills to aid in that situation, or anything similar like that, Luffy would always bring up the need of them getting a musician. His reasoning is that pirates love to sing and a musician is essential to a pirate crew. Luffy's request however would always be turned down by his crew for more practical solutions to the situation.
* Brook is the oldest member of the Strawhats, being 41 (dying 3 years after leaving Laboon) at the time of his death and 88 years old when he meets the crew, and he is the tallest, as he is even taller than Franky who is over seven feet tall.
* Though he knows other songs, Brook's favourite song to sing is Bink's Sake which he was singing upon his first appearance. Even when he asks for requests from the others, he seemed to instantly switch over to singing this song. Other songs Brook sings include Black Handkerchief of Happiness.
* Brook's joke where he leans against the wall and forms a 45 degree right angle seems to originate from Michael Jackson. Michael Jackson performed many famous gravity defying 45 degree leans during a few of his music videos which seemed impossible for a normal human to perform.
* Brook is most likely the lightest member of the crew due to the fact that he lacks everything bodily, except for bones.
* Brook's unique laugh of "Yoho" is a stereotypical pirate line commonly found in various pirate related pop culture.
Chopper:
* Chopper has his own Jolly Roger, as the other members of the crew do. It was used by his adoptive father Hiriluk. This is the same flag which resides on the flag pole of Drum Island Castle.
* Chopper's favourite foods are Cotton candy, chocolate and other sweet stuff.
* Chopper's is one of the few characters in One Piece whose design origins has a clear link, namely to the character Rudolph the Red-Nosed Reindeer as Chopper not only is a reindeer, but one with an unusually coloured nose. Chopper's birthday, Christmas Eve, further leads to this conclusion. However, like with many similarities in One Piece, this is unconfirmed by Oda.
usopp:
# n addition to the Straw Hats' Jolly Roger, Usopp also has one of his own, like all the other members of the crew. The flag was first seen when Luffy asked him to paint the crews Jolly Roger on their flag, however Usopp originally painted his own instead. It has Usopp's nose, bandanna, a star, and a slingshot for a cross-bone.
# Ironically, most of the tall tales he told Kaya have came true at some point during the Straw Hats' voyage. These include meeting a Giant Goldfish (as the crew was leaving Little Garden) and fighting against a giant mole (against Ms. Merry Christmas during the climax in the Alabasta arc).
# Usopp's favourite food is pike from an autumn islands as well as other fish of the season. He hates mushrooms because when he was young he ate a poison mushroom.
# According to Oda in a discussion with Tanaka Mayumi, Luffy's Voice Actress, regardless who joins the crew, Usopp will always be the weakest of the Straw Hats since otherwise might upset the balance of the story. Oda also states that this is because Usopp is the closest in strength to a regular human compared to the others and thus this portrayal can be easily related by the reader's own strength
franky:
* Franky owns his own Jolly Roger, as does the rest of the crew. It features Franky's triple chin, hairstyle, and a robotic skull.
* Franky is a major and playable character in One Piece Unlimited Adventure
* In the game Jump Ultimate Stars Franky is playable.
* The first ship he built that managed to achieve his original goal of beating a Sea King was the BF-35 (the 35th 'Battle Franky').
* Franky also wrote BF-36 on his left shoulder, making him the 36th Battle Franky and implying that he can kill a Sea King.
* In the Japanese only game, Fighting for One Piece, Franky's name was misspelled and written as 'Flanky' in the introduction to the game.
* According to Volume 43's SBS, his birthday is March 9, which comes from the term サイボーグ (cyborg): サ can be interpret as "san", or the number 3, while グ can be interpret as "kyu", or number 9. This gives 3-9, or March 9.
* Before the Straw Hats arrived at Water Seven, Luffy drew a childish picture of what he wanted the future shipwright to look like. This bad drawing is similar in appearance to Franky.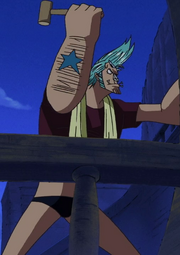 * Franky's favourite foods are Hamburgers, french fries and stuff that goes with cola .
* In the episode where he fought Fukurou, after Chopper finally tossed him several bottles of cola. After Franky refills himself with them, the cyborg's eyes beneath his shades glew bright red, similar to how the Terminator does in the movies
* In a recent Japanese fan poll, he came out as the thirteenth most popular character.
* Franky came from the South Blue originally.
* Franky was created by Oda with Kazuki Yao's voice in mind because of his hentai like character portrayal of his two previous roles of Jango and Mr. 2 Bon Kurei.
nami:
* In addition to the flag of the Straw Hats crew, Nami has her own Jolly Roger. It has Nami's bandanna, a winking eye, a sticking-out tongue, one hand doing the "OK" sign (a Japanese hand motion signifying money), Nami's hair, and star.
* Her two favorite things are money and mikan (mandarin oranges), often translated to tangerines, as is the case in the English manga.
* The first map Nami plotted was the island Cocoyashi Village is on.
* Nami also appears to have a high tolerance for alcohol, similar to Roronoa Zoro.
* Nami's favourite food is mainly oranges as well as other kinds of fruit.
* Before her appearance, Nami featured in several early artworks of One Piece alongside Luffy and the Red-Haired Pirates, despite Zoro being the first member to join, not her. This is probably due to prototypes of her appearing in earlier versions.
* As her epithet in Japanese, "Doroboo Neko", it means "Cat Burglar", but Doroboo Neko also means "Seductress", like her sensual personality.
* Despite being the one of the weakest members of the crew physically, Nami is one of the very few people in the world who can hurt Luffy with normal strikes.
robin:
# In addition to using the Jolly Roger of the Straw Hats, Robin has her own Jolly Roger. It has a purple cowboy hat, and four arms in a pinwheel formation.
# Robin's favourite foods are sandwiches, cakes that aren't too sweet and stuff that goes with coffee.
# In an official scan for One Piece: Unlimited Adventure, Robin's name was misspelled as "Lobin".